Nominations open for the 2017 Family Friendly Museum Award
The Award is the biggest museum award in Britain – and the only one where families decide the winner.
2016 Family Friendly Museum Award winners, York Art Gallery, explain what being part of the Award meant to them:

'This is the most important thing that's happened to York Art Gallery since we reopened. This award celebrates our welcome and what real visitors and families experience. That's what we're most proud of.'

Reyahn King, Director of York Museums Trust
Is the most family friendly museum in your area? Do you work in the most family friendly museum? Then nominate it – and get others to do so. Put your family friendly museum on the national map.
Nominations can be made by anyone – children, parents, visitors, visitor organisations and museums themselves. You can nominate a giant National museum or a tiny two-room local gallery. It can be volunteer-run or boast a team of curators. It can be best known for its outstanding collection of French 19th century porcelain or be alive with high-tech interactives (or both!). What matters most is that it goes that extra mile to provide an excellent family friendly experience.
How to make a nomination
Tell us why the museum is so special. What is the welcome like? What really stands out in the family offer? Tell us lots – we love to hear all your museum stories. Take a look at the Kids in Museums Mini Manifesto. How does the museum match up to the Mini Manifesto's 8 points on how to make a museum family friendly?
Click here and complete the form to nominate.
This year we have created an online form to make it quick and easy to nominate your museum. If you are not able to complete the online form, we can accept nominations by email or post.
Email: [email protected] and tell us why you think this museum should win.
Post: Family Friendly Museum Award
Kids in Museums
CAN Mezzanine
7 – 14 Great Dover Street
London SE1 4YR
Deadline for nominations is noon on 2 June 2017.
Tweet that you've put in a nomination on Twitter mentioning @kidsinmuseums #FFMA17
Museums, do you want a free Quentin Blake poster to let your visitors know about your Award ambitions? Our Quentin Blake illustrated Family Friendly Museum Award posters are free.
Click here to get your free copy
Want a free app to promote your museum's family offer? App creators Xponia are offering an exciting free personalised app, which museums can use to promote the Family Friendly Museum Award. Each museum can have their own app, which they can use to show visitors their family events, highlighted objects and give them information about the Family Friendly Museum Award. Visitors can also nominate directly through the app!
Get in touch today and find out how simple it is to get started. Email: [email protected], website: www.xponia.com/museums/
The Family Friendly Museum Award is kindly supported by Nimrod Capital and Edwardian Hotels London.
What happens next?
A group of volunteers sifts through all the hundreds of nominations and whittles them down to a shortlist. The shortlist will be announced on 22 June 2017.
Over the summer, the shortlisted museums are road-tested anonymously by families, using the Kids in Museums Mini Manifesto as a guide to their family friendliness.
The winner will be revealed at the Award Ceremony. Last year KidRated were on hand at the ceremony to film the occasion and interview the shortlisted museums. Watch this film to hear how much being shortlisted means to museums and the difference the Award can make: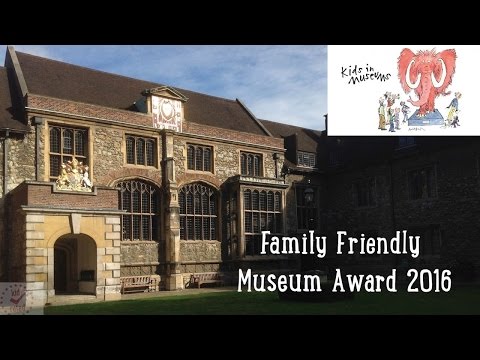 Terms and Conditions of Family Friendly Museum Award.
Want to find out more about the history of the Family Friendly Museum Award?
Have a look at some of our previous winners.
Os hoffech ddarllen y we-dudalen hon yn y Gymraeg, cliciwch yma